Network of Specialists
Through Northwestern Mutual, I have access to a Network of Specialists. We help each other, share ideas and common values, and leverage each other's talents to help you achieve your personal dream of financial security.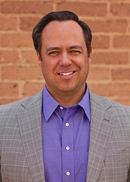 Wealth Management Advisor
Stephen believes it is important that his clients best interest comes first. When a case arises that he feels could use extra help, he invites Todd Johnson, Wealth Management Advisor, to work with him to provide the best solution for the client. He and Todd work together as a team to provide a plan that fits the clients interests.
Todd Johnson has been with Northwestern Mutual for over 13 years. He came to the financial services profession with a background in law. He graduated from the University of Utah with a BA in English and Philosophy, and then earned a JD from Case Western Reserve School of Law. At law school he studied business planning and corporate law, including corporate formation and sales & procedures. I also studied copyright and trademark issues, and estate planning, including the various forms of wills and trusts.
Awards and Recognitions:
Life Impact  2005-2011
Pacemaker 2005, 2007
Pacesetter First 40  2004
Bronze, Silver, Gold, and Platinum awards