My Team
One person cannot take care of all of our clients needs. For this reason we have a team of individuals to fit the needs of our clients. If Stephen is not available to take care of your needs, there are others there ready to help.
Customers services is important to us, we hope you feel how much we care about you and your financial future.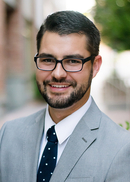 Jesse D Johnson
Assistant Director of Campus Recruitment
Office 435-628-8248

Jesse joined Northwestern Mutual in 2016. He quickly gained many roles as the office manager and recruiting. He is invaluable to the office and has grown tremendously in his time here.
As Assistant Director of Campus Recruitment, Stephen spends a lot of time with college students, professors, and faculty. Jesse's role is to help coordinate and spend time on campus as well.
Colby Douglas Nelson
Associate Financial Representative
Office 435-628-8248

Colby Nelson started with Northwestern Mutual as an intern in February 2015. He enjoyed his time as in intern but transitioned into an Associate Financial Representative with Stephen a year ago. In this role, Colby has helped Stephen to grow his client reach.
With an eye for attention to detail, Colby's role is to make sure that everything is done just right. He makes sure that deadlines are made, and that things are done correctly the first time. Starting his third year with Northwestern Mutual, he is able to fulfill just about all of the needs of our clients.
Colby recently graduated with his Bachelor's Degree in Business with a marketing certificate. Because of this, his role is evolving into more marketing. He is fluent in Spanish and is able to make clients feel more comfortable if they would prefer to speak Spanish.
In his free time, Colby enjoys spending time with his wife Emily, bowling, playing golf, and of course supporting the Atlanta Braves and his other favorite sports teams.